College Profile
Government Degree College Udhampur has a Unique and exclusive position to assert in the Department of Higher Education of the Union Territory of Jammu and Kashmir.
Government Degree College Udhampur is located at a distance of 65 KM North from Jammu. It is connected with rest of the country by road and rail. The College is at a distance of 3 Km from Udhampur Railway Station and 68 Km from Jammu Tawi, Airport. The prestigious and majestic campus of this octogenarian college is situated on a hillock-top adjoining the ancient Kameshwarpur temple of Lord Shiv overlooking the river Devika, the sacred Ganges of Jammu region, also called as the elder sister of Ganga that has its reference in the Puranas. The college is in the proximity of the small and beautiful town of Udhampur.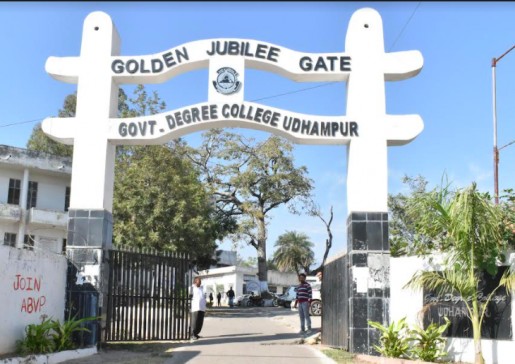 The college is one of the premier institutions of Udhampur district and Union territory of Jammu and Kashmir at large. It was established in 1961. The first batch of 30 students was admitted to the college on 27 th of June, 1961. Since its inception the college has achieved a myriad of landmarks in various fields. At present this college is one of the leading institutions of higher learning in the Union Territory of Jammu and Kashmir and has on record established a unique and trendsetting position at regional and national level.
The college was upgraded in 2012 to teach up to Masters Degree level by the UGC, vide order no. 8-595/2011 (CPP-1/C) dated 23 rd Jan, 2012. At present, the College offers courses in the disciplines of Arts, Commerce, Science (Medical and Non-medical), BCA and BBA. We are also offering three PG Courses i.e. PG Chemistry, PG English & PG Hindi. As a policy matter, more emphasis is laid on imparting skill-based education to the students for gaining employment. In this regard, many courses have been started with the help of NIELIT and other institutions such as certificate courses in Tourism Management/THSC, Computer Application, Tally, Internet of Things and Data Entry & Office Automation. From the academic session 2018-2019 onwards and till date, a number of new subjects have been granted affiliation and approval by Jammu University viz.: PG Chemistry, and Philosophy, Functional English, Public Administration & Geology at UG level. The college has also been selected for the prestigious Star College Scheme by the Dept. of Biotechnology, Govt. of India to upgrade the laboratories of many science related subjects.
A sizeable section of students joining this institution comes from such families who mainly depend on agriculture and are economically as well as socially very weak to support the education of their children. The College carefully caters to the educational needs of this particular section of the society and puts in every effort to ensure a gradual and meaningful development of the students, both in curricular and extra-curricular domains. In this endeavor, students are encouraged to actively participate in inter-college competitions in sports, cultural, symposiums, debates and also the programmes of academic importance. A sizeable number of experts from corporate world, industry and consultancy services visit the campus that adds to the new initiatives and commitment for the students at large. Besides this the placement drives are also being organized from time to time.
The College has a highly qualified and experienced staff, well-equipped laboratories, rich library, play-fields, Boys' hostel, Multi-purpose hall, Conference hall, Smart Classrooms with interactive, Wi-Fi enabled LED panels, Information Browsing Centre, e-content studio and many other infrastructural facilities. In a first of its kind in the Government colleges of the UT of J&K, the college has set up a virtual class room for initiating innovation in teaching with the digital revolution so as to provide the best available knowledge and information to the students for technology based 'intuitive learning". All the departments and the college library are Wi-Fi connected for providing best of class internet access to the stakeholders.
Besides the lush green and splendid campus of the college equipped with all basic amenities (with a backdrop of the Gangeda Hills); there are ample reasons for academic attraction and a conducive environment for optimum level of learning to the students. In its measures to remain eco-friendly and conserve every drop of water with a mind to pay some debt back to Mother Nature, the college has recently built a Rain harvesting system in its botanical garden as a water conservation measure. At the same time, under the green initiative plan, the college is in the habit of organizing plantation drives at all as also special occasions. The botanical garden of the college claims to have many rare and culturally important species of plants and trees.
For the promotion of sports and to ensure physical fitness of the students, the College has a splendid playground for Cricket, Football, Hockey, Tennis, Volley-ball, Kabaddi and Badminton. Games are played regularly and every student is expected and encouraged to play at least one game. The college has certain unique traditions of sports. It regularly organizes a State Level Annual Silver Rolling Volleyball Trophy for Men and Women as well as sports festivals.
To cater to the transport needs, the college has two dedicated buses for the girl students. For the students coming from the long distances and far-off places, Hostel facility is also available for male students in two Boys' Hostels, i.e. Tagore Hostel and Gaddi-Sippy Hostel.
In order to inculcate a sense of discipline amongst the youth and to their character, the ideal of service, capacity for leadership and a spirit of camaraderie, the College provides facilities for N.C.C training to the volunteer students through two wings of NCC Infantry. Besides, to foster a spirit of comradeship and love for humanity in general and rural folk in particular, facilities are provided to volunteers with a desire for social service to put in their best for alleviating the sufferings of the sick, the helpless and the down-trodden, the College has two units of NSS.
Catering to the demands of the present and envisioning the future readiness, the college, at present, is preparing zealously for the implementation of the National Education Policy-2020. The fulfilment of infrastructural as well as other academic parameters for the establishment of skill/ vocational centers under hub-spoke model is underway so that the samecourses may be started by the college in the forthcoming academic session in the year 2022.
The alumni of the college have been spreading the hue and fragrance of this prestigious institute in various fields of service of the nation and across the globe including education, science and technology, administration, entrepreneurship, politics and other allied fields. Though Bringing all the jewels out of the last sixty two years of this prestigious institute may take time and space in calculative, yet the prominent alumni amongst many are Padam Shree Prof.(Dr.) R.N.K Bamezai, former VC SMVDU, Sh. Pawan K. Gupta, former Minister of finance and MLA Udhampur, Sh. Balwant Singh Mankotia, former MLA Udhampur, Lt. General P.S Mehta, Sh. Farooq Khan, IPS, Colonel Sandeep Dhar, Colonel Deepak Sharma(SEna Medal), Colonel Vinod Kumar (Sena Medal), Colonel Zorawar Singh, Brigadier Pritpal Chandel, Sh.Ashok Kumar, Director Sports SMVDSB, College Principals Prof. Ajit Singh Rishi, Prof. Kusam Gupta, Dr. S.K Magotra, Dr. Bhavnaish Chand, Dr. Udhey Bhanu, Sh. Brinder Singh, Sh. Mahender K. Sharma, Addl. District sessions Judge Jammu, Sh.Anoop Kumar,CJM, Prof. Dr. Yash Paul Sharma, Prof Parkash Chand Anthal, Dr. Ashwani Sharma Sr. scientist, Chemistry, Germany, Dr. Naveen Kumar Chaudhary (Professor & Dean National Forensic SciencesUniversity, Gandhinagar, Gujarat), Dr. Balbir Singh, Sr. scientist Genetics, France, Sh.RaviKesar, IFS, Sh. Raman Kesar KAS, Sh.Varinder Slathia, KAS, Ms. Anuradha Gupta KAS, Sh. O P Bhagat KAS, Sh. Arvind Sharma, KAS, Sh Dhanater Singh KAS, Sh Ranjeet Singh KAS, Sh. Pankaj Anand KAS, Dr. Pritam Thapa KAS, Mr. Angrej Singh KAS, Sh.Rakesh Jamwal, Dr. Sudhir Singh, Jt. Secretary JKBOSE, Sh Abhinav Dhar(Founder member Educomp), Sh.Benam Tosh SSP, Sh. Mahadeep Singh, SSP, Sh. Sewa Singh SSP, Rajit Pal Singh (Chairman / The Sports Rush), Gaurav Srivastava ( Regional Head / ICICI Bank), Anil Kumar Briksh (Commandant, CRPF), Ms Sumati Sharma,Ms. Renu Dogra Judicial Magistrates and many more including many members of faculty in different colleges and Universities of the J&K UT, in the country and abroad and also achievers in different fields.