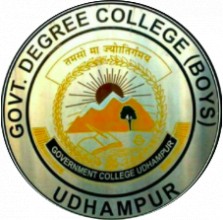 Dr. Romesh Kumar Gupta
Dear Friends,
It is indeed a matter of honour and pride to be at the helm of affairs of the most prestigious College of the State-once again! Yes: Govt. Degree College Udhampur is indeed one of the best and most prestigious Colleges not in one but many aspects. Located on a plateau and in the lap of shri Mata Vaishno Devi Ji, the lush green campus is rich in flora and fauna; the Mother Nature bestowing upon it all her kindness. The College Botanical Garden has almost two hundred species, many of them rare; with small wild animals visiting in quiet hours The infrastructure is adequate to cater to undergraduate, three PGs, Honours, BCA, BBA and other courses. And the best part is its excellent Human Resource that chisels young generation into perfect gentleman. Their dedication towards the noble worship of teaching is unfathomable. With all these parameters, this College of ours always comes out with flying colors. The staff of the College are unfamiliar with only one word: impossible. I had read a quote somewhere: "Difficulty we do in no time; impossible takes a little longer", And that is exactly the spirit with which the staff here works. For us, even sky is not the limit. We are determined that in times to come, we are going to go in for infrastructure development as also embark upon various Seminars, Workshops, Lectures, Cultural, Sports and Social Activities by Nature Club, Heritage Club and other organs of the College so that we are able to discharge our duty towards society also in the best possible manner. Our aim is ultimately to became a University itself for which our undaunting efforts will continue. I have all faith that your good wishes and blessing shall always be with us and wherever the need be, you will continue to support us, guide us.
With all my regards Dr. Romesh Kumar Gupta
Realising the responsible task that we have on our hands, the college emphasizes on developing each and every student to his/her optimum capability by tapping the potential in him/her. Excellence not only in academics but also in sports and extra co-curricular activities is of paramount importance in today's world. But apart from this, the golden values of honesty, integrity, patriotism, and discipline are to be instilled in our students to become responsible citizens of the country. I hope that sincere, sustained, collective and spirited efforts of my staff and students will definitely go in a long way for the progress of this institution. I am reminded of the lines of the great English poet Robert Frost, The woods are lovely, dark and deep, but I have promises to keep and miles to go before I sleep and miles to go before I sleep.